Diversity Training At Base Borden
I was contracted to do my diversity training presentation at Canadian Forces Base Borden this week as part of Asian Heritage Month.  I had a feeling in advance that this will be another one of those very special moments in my motivational speaker career much like the time last year when I spoke at that Muslim student group.
Sure enough, the audience was about 80% military and 20% civilian.  I did my 'Kick Down Diversity Barriers For Success' and of course geared it to the diversity training needs of the Canadian Armed Forces military personnel.  The talk went over very well and it was such a high honour to have them as my audience.
Diversity Training To Help Our True Heroes
Our military are the true heroes out there since they defend our country and freedom.  I told them that as a karate world champion, I don't feel all that tough especially in their presence since they are the real tough guys and gals who risk themselves to protect the rest of us.  It was such a privilege to have them as my audience and help them with some diversity training.
As you can see from the photos here, our Canadian Armed Forces are becoming more diverse which is a great thing to see.  This shows that some previous immigrant families instilled enough sense of patriotism for their new country and actually gave enough of a darn about Canada that their sons and daughters chose to serve.  This is in complete contrast to some immigrant families who don't seem to give a darn about Canada at all.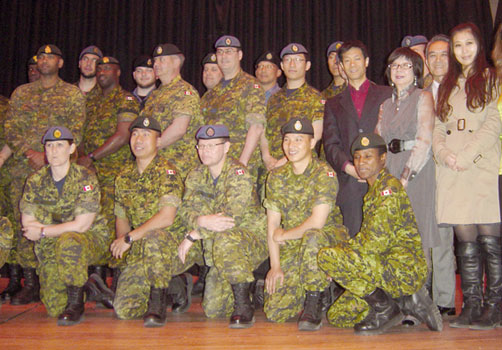 Diversity Speaker Honoured To Have Such Great Audiences
As a diversity speaker, I feel so honoured to have such great audiences such as the Canadian military.  Sometimes this doesn't even seem like a job as I feel that it's my duty to help these brave men and women out any way I can.
The talks that I would do for military and other similar organizations would be modified versions of my corporate business speaking programs.