Workplace Diversity Training Programs
Half Day Seminars

For organizations who need help to ...
* Effectively manage growing diversity both internally and externally
* Have their people at all levels fully embrace diversity
* Have their people develop skills useful in diverse environments
See Video Below On Workplace Diversity Training Programs



Workplace Diversity Training Programs

These half day long workplace diversity training programs are interactive and fun workshops that includes all the principles from Clint Cora's Kick Down Diversity Barriers For Business & Personal Success keynote speaking program plus much more! It is intended for groups who want a 'hands-on' working seminar to actively develop diversity skills for use in the workplace as well as in personal life.
Hands On Training On Diversity Skills Development
Seminar participants will learn how to interact successfully with others through group activities during the session. There will be lots of interactive discussion with the entire group as well as activities within smaller teams of four to five people to brainstorm ideas and issues in diversity. These types of activities are not possible during standard keynote talks but are major components of this group seminar -- your people will be busy taking on challenges to deal with diverse working environments.


Like Having Your Own Guide To Navigate New Waters Of Diversity
This workplace diversity training seminar will usually be in a smaller setting compared to large keynote presentation events (conferences) in order to facilitate discussion and interaction. Best of all, Clint Cora, who has worked with diversity all his life, will be personally guiding your group through all the important steps in developing diversity skills throughout the three hour seminar. He will be there to take your group through from beginning to completion of a special seminar guide that will be supplied as part of the session.
View a sample diversity workshop seminar schedule to see just how full such a half day of diversity skills training can be.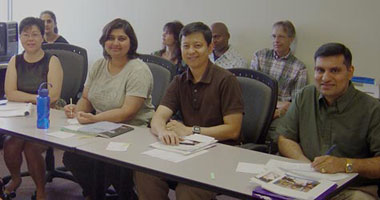 Eye Opening Half Day Event
Here is how your group will benefit from this eye opening workplace diversity training program seminar:
Review of all principles from

Kick Down Diversity Barriers For Business & Personal Success

keynote program including benefits of developing diversity skills and stereotypes awareness

Utilization of fun group activities for hands on, active development of diversity skills involving commonalities and differences

Interactive discussion sessions to explore understanding and appreciation of important issue in diverse working environments

Smaller team activities as focused group efforts to help brainstorm ideas and solutions to successfully embrace diversity

Deeper coverage of comfort zone expansion in diversity and other areas of life


Each participant receives a Seminar Guide as reference material
This unique seminar is a fairly intensive but fun half day for sure but imagine the feeling your people will get at the end when they begin to view diversity in a completely different way than before enabling your organization to succeed in a diverse world.
To explore the possibility of having this half day long workplace diversity training program conducted exclusively for your private group, please contact Clint Cora.