Youth Motivational Speaker Helping To Motivate Your

High School Student Or Youth Conference Audience
For
Success ... With A Unique, Entertaining Martial Arts Angle
If You Are Seeking A High Energy, Dynamic
Speaker
For Your Students, See Video Below
Students Having Lots Of Fun With Clint!


Available Youth
Motivational Speaker Program
Clint Cora can conduct his three hour Effective Self Defense training seminar as a stand alone program or in combination with any of the speaking programs below - see previous link for information on his self defense seminars.
'Creating Awesome Future Successes For Youth and Teens!'
This is Clint Cora's main motivational talk for high school students and youth groups. It covers many of the success principles from his book,
The Life Champion In You,
with an additional emphasis on staying in school, the importance of people skills and staying away from crime. Here are some details of this youth motivational speaker presentation.
Real life comfort zone expansion examples to help students succeed

Tips to help all students become successful all round life champions

Top secrets to doing well in school and becoming future successes

Importance of people skills for success even in a world of diversity


How students can become leaders in future careers and society

Why bullies are not real leaders


The real reason for staying in school to graduate (mind development)

To teach students why successful people never stop learning

To show students why drugs and gangs are not the way to success


Multiple universal lessons from Clint's own journey as well as others

Entertaining martial arts and audience participation to illustrate key messages

A 45 minute talk plus 10 to 15 minutes for questions from students
Clint Cora offers this motivational speech to school students to ensure that our society's future is productive and to help keep our communities safe from crime. This talk would also be perfect for student conferences.
Please note that this talk is available only to student groups at the

high school or equivalent levels

.
Contact Clint Cora For Booking Information

To explore the possibility of having Clint Cora as a youth motivational speaker at your school or youth event, send an e-mail to contact (at) clintcora.com - replacing the (at) of course or call us at 905-814-5763.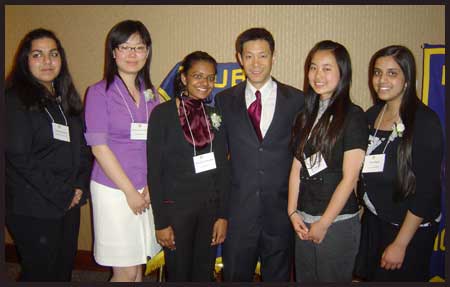 Student Scholarship Recipients With Youth
Motivational Speaker Clint Cora
Check out what one youth awards banquet organizer had to say below when Clint was the keynote speaker for an event. Youth audiences will not get bored listening to Clint Cora!
Clint also has separate speaking programs for teachers and school staff professional development programs - see feedback from a teacher
Student Can Achieve As A Result

"Ever since you gave a motivational talk at my school, ISNA High School and ever since I read your inspiring book, I have come to believe that you are a leader, and that by taking you as an example & learning from you, I too, can achieve. With much respect & admiration."

Sheri Soliman, Student, ISNA High School, Mississauga

See other keynote speaking testimonials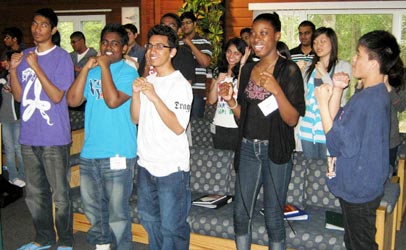 Happy Teen Students Being Led Through Activity
By Youth Motivational Speaker Clint Cora
Reached Students In Meaningful Manner They Will Remember

"Your presentation was one of the highlights of Camp Enterprise this year. You were very motivational and engaging, talking directly to the students' level of experience and pushing them to think about important aspects of life and how to succeed. We especially appreciated your comments on diversity and building people skills - and how important these skills are in business and life in general."

"Teenagers often have difficulty or reluctance getting out of their comfort zone, but you pushed them in an unusual and convincing way. Drawing from your personal life experience clearly reached them in a meaningful manner that they will remember."

"You made an extremely valuable contribution to our Camp Enterprise program this year. We are very grateful to you. Thank you for sharing your story and experiences at CE 2011; we know the students appreciated it, and hopefully we can call on you in the future to challenge the students another year."

Geoff Dean, Rotary Camp Enterprise Director

See other keynote speaking testimonials


Educational Materials Available For Teen Youth Audiences
Clint can also make his books available for your students as continued educational resources. This will help reinforce key messages as well as motivate them on a regular basis for achieving success after they have heard Clint speak. Of course, Clint will always make himself available to personally sign books and speak to students after his presentations.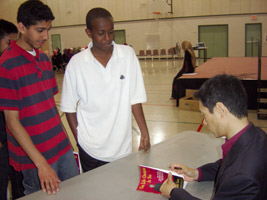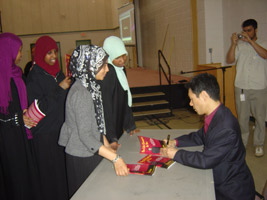 Youth Motivational Speaker Clint Cora Signing Books
For Teen Youth School Students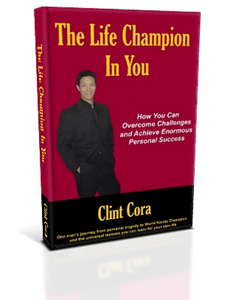 Note - Certain non-profit charity organizations and corporations involving youth may quality to have Clint present this program for free - see video below.

Clint Talking About Emotional Intelligence
And Connection To Youth Violence
Left Audience Inspired and Motivated

"This motivational speech was incredibly well presented. Clint captured the attention of the audience immediately and held their attention for the entire speech. The speech had great structure, was well-paced and Clint's speaking voice was authoritative, yet pleasant. The message to expand your comfort zone was easy to relate to. Using examples of others who have expanded their own comfort zones, and illustrating how easy it would be to take those small steps necessary to expand our own comfort zones, left the audience inspired and motivated."

Elaine M. McLean, HJA Brown Education Ctr, Peel District School Board

See other keynote speaking testimonials
Made Student Feel Stronger With Goals

"The presentation really motivated me, made me feel stronger in my goals now. Thank you so much."

Michael Wei, Student, TAIE Institute, Toronto

See other keynote speaking testimonials
Made Student Feel Proud Of Herself

"Your passion, your ideas were quite impressive and that did help me a lot. As an Asian, I really feel more proud of myself."

Jenny Zhu, Student, Imperial College, Toronto

See other keynote speaking testimonials

Again, to explore how you can bring Clint Cora as a youth motivational speaker to your school or youth event,
send an e-mail to
contact (at) clintcora.com
- replacing the (at) of course or call us at
905-814-5763
.