Toronto Motivational Speakers
GTA Convention Keynote Speaker Ontario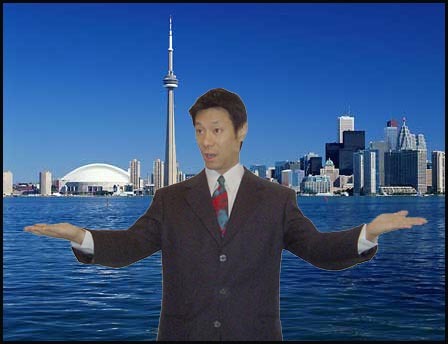 Clint Cora is a professional Toronto motivational speaker, author, former corporate executive and karate world champion. As a former member of the Canadian National Karate Team, he is your ideal diversity or motivational keynote speaker for your meeting or convention event within GTA Ontario or Canada. This is especially true if you want a proud Canadian motivational speaker for your event.
As a bonus, if your meeting or event is in or near the greater Toronto area, there are no travel expenses such as airfare, hotel, meals or ground transportation for a Toronto GTA based convention motivational speaker like Clint Cora. There is NO need to pay extra expenses to fly in a speaker. Clint is therefore able to offer you a special speaking fee discount if your meeting is in or near the greater Toronto area (within a two hour drive). This makes Clint your perfect choice for a local diversity or Toronto motivational speaker resulting in cost savings for your meeting or convention. See the brief video below.
Another benefit of booking Clint Cora as your speaker is if your organization is based in Canada, the speaking fee will remain in Canadian currency, eliminating the added expense of having to pay professional speakers in foreign currencies. This is even the case if your actual meeting or convention happens to be held outside of Canada.
To learn more about Clint and his convention keynote speaking programs, just start exploring through any of the links above or the link to the site map below.
Moved By Passion and Enthusiasm

"Your presentation was very insightful, informative and highly motivating. We were moved by your passion, enthusiasm and the interactive activities by which you were able to engage the group and keep us focused throughout the session."

Claudette Miller, Manager, Ontario Business Services Branch

See other testimonials See full PDF testimonial letter
How To Expand Your Comfort Zones To Finally
Conquer Even Your Most Daunting Goals In Life
A Free Live 3-Part Personal Development
Video Series Delivered Directly To You

-
With specially selected parts from high energy live keynote presentations, motivational speaker and Karate World Champion Clint Cora will share with you;



The #1 mind-shift that got me through my own personal tragedy

The hidden lesson underneath EVERY life experience

How to get OUT of your comfort zone and why it's KEY to long term happiness


Three micro-changes you can make in your life right now to IMMEDIATELY
get closer to achieving your goals


Secret surprises that will unexpectedly BOOST your personal growth ten-fold


And much, much more!


Just enter your first name, e-mail and click below so we can send you the link to this free inspiration 3-part Personal Development Video Series - privacy policy (you may unsubscribe anytime). Sign up box also at Free Inspiration Videos.