Show Prep For Radio and Television Interviews
With Motivational Speaker Author Clint Cora
Clint Cora is available for radio and television interviews - just contact him to arrange one.
'Karate World Champion Helping You Kick Through Tough Times'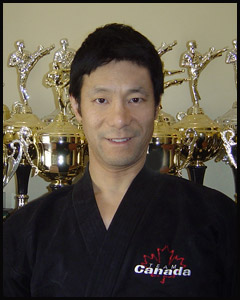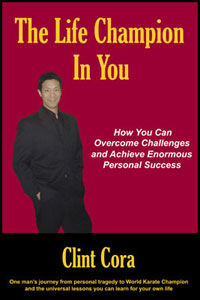 Clint Cora, Karate World Champion & Author of 'The Life Champion In You'
During a very interesting interview,

your audience will learn

:
* What a

'life champion'

is and who can be one
* The most important shift in mindset required for success despite tough times
* Why people should NOT make wishes
* How to get past adversities such as recessions and still flourish
* What comfort zones really are and how to

expand

them
* How to develop confidence to face life challenges
* Reasons why people fail to achieve success and what can be done about it
* A strategy to prevent procrastination
* Clint's own journey from personal tragedy to Karate World Champion


Clint Cora is a former member of the Canadian National Karate Team and a Karate World Champion. Despite the enormous tragedy of losing his mother to suicide, he became a martial arts world champion. The universal lessons from this journey are finally captured in his new book, 'The Life Champion In You'.

It took 24 years for Clint to make the decision to finally write and talk about his life experiences since he realized that many people were feeling lost both financially as well as emotionally. Of course now that we are still engulfed in tough economic times, there's a real lack of motivation in the air.

As an author and motivational speaker, Clint Cora is on a mission to motivate others past slumps and to give them hope. Clint outlines a blueprint for success that everyone can follow even in the face of adversities. Your audience will absolutely love this interview as a much welcome contribution in today's challenging world.

Clint offers you an inspiring and entertaining interview - you can listen to past radio and TV interviews.

A list of sample interview questions along with timing is available for your convenience.


Entertaining and Valuable Addition To Programming

"In May of this year, we at 93.5 CHMR-FM had the pleasure of interviewing Clint Cora. The interview gave our listeners a good insight in the capabilities of Clint as an entertaining and informative motivational speaker. Clint drew from his personal experience to support his belief that we have within us the potential to become true champions."

"Clint shared the entertaining self-effacing story of his lack of athletic ability as a school boy, and how he made his way to become a Karate World Champion. Then he shared the story of his mother's untimely death when he was a teenager and his determination to avoid being a victim of that tragedy."

"Finally, Clint shared some of the message of his new book, 'The Life Champion in You', urging us to be totally committed to what we want and to continually take action to expand our comfort zones."

"I recommend Clint Cora to other radio stations as an
entertaining and valuable addition to their programming."

Nami Ohara, DJ, 93.5 CHMR-FM, St. John's, Newfoundland

Excellent Guest On Any Program With Talk Format

"I had the pleasure of interviewing Clint Cora on ThatChannel.com's Liquid Lunch show in August 2009. Clint was an excellent guest, easy to chat with, and the wealth of information and wisdom he brought was an inspiration to myself, my staff, and I'm sure for the audience as well. Clint is welcome to return to ThatChannel anytime he has new information to share, and I'm sure he would make an excellent guest on any program with a talk format"

Hugh Reilly, Founder, ThatMedia Corp, Toronto, Ontario