Now you can take Real Action in your Self Improvement
and Personal Development for your Success
with Guidance from Clint Cora
See Video Below On Self Improvement Seminars
Reading books on self improvement and listening to keynote talks on personal development are great but if you feel that you could use some personal guidance and a push from others to help you develop your success plans, then here is the ideal opportunity for you to take real action. Clint Cora has day long seminars to help you change your life for good.

Need some guidance and a push to take real action
towards your success? Here's your opportunity!

Real Action Towards Your Self Improvement In A Hands-On Public Seminar
This full day seminar, previously offered only to organizations, is an intensive personal development workshop that includes all the principles from Clint Cora's book The Life Champion In You plus much more! You will also learn how to use the various action planning tools from the book by actually working with them during the seminar.
This is intended for people who want an active 'hands-on' working seminar to create feasible action plans for achieving success and overcoming challenges. There will be lots of interactive discussion with the entire seminar group as well as activities within smaller teams of four to five people to help you brainstorm ideas. These types of activities are not possible during standard keynote talks but are major components of this seminar -- you will be busy taking real action towards your success!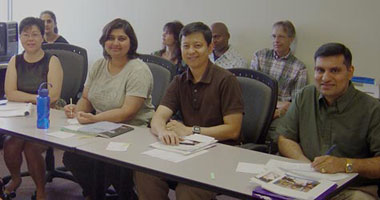 Like Having A Personal Mastermind Group Guided By Clint Cora
These self improvement seminars will usually be in a smaller setting compared to large keynote presentation events (conferences) in order to facilitate discussion and interaction. The day will be like having your own 'mastermind' group helping you create the best possible routes for your own success.
Best of all, the author of The Life Champion In You, Clint Cora, will be personally guiding you through all the important steps for your action plan throughout the six hour day. He will be there to take you through from beginning to completion of a workable plan that you will create from a special The Life Champion In You Action Planner binder over sixty pages that will be supplied as part of the seminar.
View a sample motivational seminar schedule to see just how full such a day of self improvement and personal development can be (note that this schedule is the corporate version but a public seminar will be very similar).

Life Changing Day Long Self Improvement Event
Here is how you will benefit from this incredible all day seminar:
Review of all principles and universal lessons from

The Life Champion In You

including mindset, attitude and comfort zone expansion for your success

Utilization of macro and micro tools for hands on, active development of feasible success plans customized just for you

Interactive discussion sessions to increase understanding of concepts as well as addressing possible challenges stopping success

Smaller team activities as focused group efforts to help you brainstorm ideas for your success plan

Have the author of

The Life Champion In You

personally guide you through the action planning process for the entire duration of the seminar
You receive an Action Planner binder which will turn into a blueprint for your success PLUS a copy of

The Life Champion In You

book signed by Clint Cora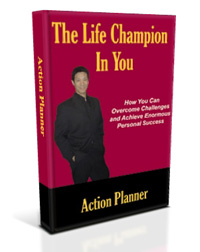 -----------------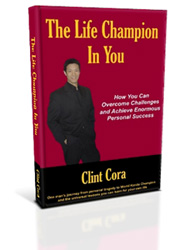 This seminar is an intensive day for sure but imagine the feeling you will get at the end knowing that you just put in six incredible hours of real action in self improvement and personal development that will change your life for good!
Public Seminar Dates And Locations
Official dates will be announced in Clint's blog.