Downloadable Self Help eBooks & Audio Programs
Motivational Self Improvement Ebooks by Clint Cora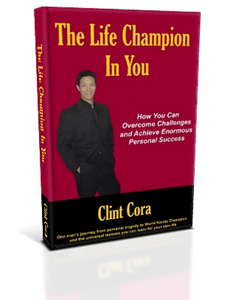 Self Help Ebooks
Clint Cora's 100 page softcover book, The Life Champion In You, is available in a downloadable digital electronic self help ebooks version. The ebook version is the same content as the 6 by 9 inch printed softcover book but since it is formatted on 8.5 by 11 inches, the number of pages is reduced to 65 pages on a single 752 kilobyte PDF file.
You could be learning about achieving success from it within minutes of ordering since this self improvement ebook version is in Adobe PDF format which can be viewed on any PC or MAC computer.
With self help ebooks, there are no shipping costs to pay for, no waiting for delivery and you pay a lower price compared to the printed softcover version. Of course, you could also print out the entire ebook at your leisure if you should so desire.
The audio version is split over eight separate downloadable MP3 tracks with file sizes from 2.5 to 9.8 megs (high speed internet connection required). Once downloaded, you can transfer the audio files to a portable sound device (iPod) or burn them to a CD. You can learn while you commute or drive.
Read or listen to the foreword from this self improvement ebook and audio program.

My Risk Free 100% Money Back Guarantee

I feel so confident about The Life Champion In You in helping you in your personal growth that I assume all the risk.

If you feel that you haven't learned anything useful that puts you on the path towards personal success during the next 60 days after you place your order, simply e-mail Clickbank (the online retailer that carries the digital versions) within 60 days and they will promptly refund 100% of your money back.

There is absolutely NO RISK to you. I am sure that you will get positive results if you faithfully follow the universal lessons outlined in the ebook and audio program.


Once you place your order online with our very reputable and secure third party retailer, Clickbank, you will be directed to the download page where you can download the ebook version of The Life Champion In You for only $9.97 US (and no shipping charges).
The downloadable audio version is only $27 US and as a bonus, includes the self help ebooks file as well! Click on the appropriate link below now to order either the ebook or audio/ebook version at Clickbank.