Testimonials From Readers of Clint Cora
Motivational Self Help Books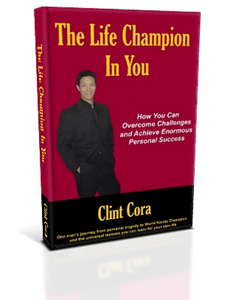 "Clint Cora's book, The Life Champion In You, is an example of the resiliency of the human spirit. Using the tragedies of his life, he demonstrates that anyone can rise above their challenges and create a successful life. He offers practical advice to help people achieve their goals and dreams. Clint's book stands apart from other motivational books because of its personal and realistic approach. It is easy to read and written for anyone wanting to put their dreams into action. I would highly recommend this book because it is inspiring and motivating."

Shan Dube, Social Worker, Vancouver, BC


"I just finished reading your book! Thank you for it. The most important message I learned from it is your statement, 'I will not let circumstances rule my life.' It's my new motto. I had a bad circumstance in my life last year, and it utterly consumed everything I did. I felt so stuck. But not anymore. I'm making my goals, as per your model, and will make my dreams come true. I admire your drive in the face of adversity! You're are a fantastic role model Clint. Thank you."

Patricia Ellison, Screenwriter, Whitby, ON


"Clint starts The Life Champion in You with a highly personal account of the challenges of being a visible minority as a child. I could relate to his early experience because it very much mirrors my own. Those challenges sure didn't stop him from becoming a 'Life Champion' as he discusses so eloquently in the book. I was amazed at the simplicity of the tools he used to accomplish his goals -- you don't have to spend any money because you already have the tools and are using them now!"
"I grew up in an environment that stressed academic achievement but downplayed other important areas. I learned later in life how important these areas are and really connected with Clint's emphasis in the book on being well-rounded. His message is clear: If he was able to overcome adversity and become a Life Champion, so can you. Get this book and you will awaken the Life Champion in you!"

Prakash Kabe, PMP, Project Manager, Mississauga, ON


"A no-nonsense, how-to manual for those of us who sometimes need a swift reminder to get going. Drawing from his own personal experiences, Clint gives us simple yet powerful insights on how to plan towards the achievement of success in life. An inspiring read."

Gianluca Berchicci, Morgan Stanley, London, England
"The Life Champion in You is not just another motivational book, it has a lot
more to offer. Clint Cora shares his personal experiences on how someone
can get over personal tragedies and be successful. He offers simple tools
one can use to track and eventually achieve success. The best feature of
this book is that it communicates many powerful messages and
proven techniques in few pages."
"There are many motivational books in the market. However most are hundreds
of pages long which require a few weeks of reading. By the time we are in the
second half of the book, most of us have already forgotten the first half. Clint
Cora avoids this by sticking to the point for each concept he introduces in his
book. One can finish reading this book in a few hours and put the
techniques into action the next day."
"The Life Champion in You teaches us to compete with ourselves than with
others. Its techniques can be used in any area of life as the book says that
'success is measured by the individual'. The tools taught in this book can help
anyone coast through the most difficult situations in life. I would highly
recommend everyone to have one copy and read it at least once a month."

Shouvik Chowdhury, Telecommunications QA Manager, Toronto, ON


"Not too long ago, I met Clint Cora, World Karate Champion, writer and
speaker, in a seminar. As I heard his speech, I realized his teaching was
amazing. I really enjoyed the way Clint inspired the audience with so
much wisdom and down-to-earth tips and ideas. I immediately bought his
book 'The Life Champion In You' where he teaches us how to overcome
challenges and achieve enormous success. I could not stop reading
his book until the end. I actually finished reading it the same day.
Thank you Clint for sharing your wisdom."

Enrique Romero, Real Estate Broker, Sutton Group, Mississauga
"What I liked about Clint's book is that he shared the ideas about developing
and building your skills to a professional level ... buy his book."

Bill Martin, Certified Dog Groomer, Orillia, Ontario
"It's a very easy to understand read. It's a guide to making your life more
effective and better. And it doesn't take very long to do so (read). It talks about
making comprehensive decisions and writing those decisions on paper for
more emphasis and effect. If you purchase this book, you'll find that the
decisions you can make will be much more effective, they're much easier
to understand and you will have a much more integrated life and a much
more positive fulfilling life if you do so."

Rob Belsby, Sales Executive, Toronto, Ontario
"When I read Clint's book, it was an amazing wake up call for me because
I've been doing what I thought was personal growth but Clint gave me
more tools and more help to develop myself and to grow. If you
want to be better, get the book and be better yourself."

Nelson Ruiz Blanco, Business Professional, Hamilton, Ontario
"I enjoyed Clint's well thought out book. The chapters on his childhood gave it
a very personal touch. I too was a big fan of Bruce Lee as a kid, and spent
several years pursuing the martial arts. So that part of the book really came
alive for me. Also liked the practical tips about how to define goals and
ensure that you keep at them. I would recommend this book to anyone
who wants to take the next step in realizing their life ambitions."

Ivar Kangur, Jazz Pianist, Toronto, Ontario
"I found that he used a lot of compassion. His tonality in his book is
very genuine and compassionate. One thing I really loved about the book
which really melted my heart in a way is his courage to write about his own
life story because what that did for me and I'm sure anyone who reads his
book is that it gives us motivation and inspiration to go into ourselves
and get the courage to find out who we really are as a person because
at that point, we can go ahead and have a really great life.
Thank you so much Clint and I really look forward to your next book.

Theresa Hawco, Author of 'A Course In Values'
"Clint Cora has written a fantastic book that provides a logical, organized,
and doable path to achieving your goals. Unlike other books of its type,
'The Life Champion In You' spends more time on how to achieve
success. Clint lays out a great method to keep yourself accountable
and motivated as you achieve your goals. He also provides real
examples from his and his friends' lives that help you understand the
importance of his teachings. I look forward to implementing his
methodology, tips, and tricks to achieve my life goals."

"I also loved his use of quotations. These quotations mirror what he is
discussing in each chapter and provide extra insight into his key points.
I also found the summary of quotes from his book in the conclusion
to be very helpful in reminding me of the key learnings."

Melissa Winchester, Stouffville, ON
"As a listener of his audio book, one should take the time in trying to understand
what Clint stands for particularly given the multi-category of population he
continues to influence in various positive ways. In "The Life Champion in You",
Clint illustrates the aspect that anything is possible if you attack life with the
proper mindset and tools. Those who choose to bypass his invaluable product
should try giving it one more attempt because it does outline contents that will
eventually lead you in the road of success given you're serious about
accomplishing such power in your life."

"This audio CD book offers once in a lifetime breaking strategies for pointing
out mechanisms that will help us in taking ownership of our lives. We all
need role models and I know I am a better person by having learned
such priceless lessons from "The Life Champion in You" by Clint Cora.
Because we're all humans who essentially have same needs, this CD
program should benefit anyone out there who feels lost in their life and
requires highly structured guidance. Apply the tools that are outlined in his
book in helping you reach that ultimate destination in your life."

Jenny Choi, RN, Glen Burnie, MD
"I finished the book yesterday. It is a great book, very inspiring and
motivational. I especially like how you applied the things you mentioned in
the book in your personal life. Lots of self-help books that I've read seem
to be lacking the real world examples, just like those in your book. I think if
the author could relate more what they teach with their own real time stories or
successes, then the teaching would be much more effective and convincing."

"One thing I can strongly relate to your book is that, it is true that one
small success in one area of life can help a person be successful in other
areas too. People tend to neglect this and go straight ahead to tackle their
main, difficult goals (like career, money etc.) while they're actually not
ready yet. So by gaining these smaller successes first, we will more easily
boost this 'readiness' when it comes to hard, bigger goals. This indeed
is a book worth a second, third, and more readings. Great work!"

Harry Che, Founder/CEO GoalsOnTrack.com
How To Expand Your Comfort Zones To Finally
Conquer Even Your Most Daunting Goals In Life
A Free Live 3-Part Personal Development
Video Series Delivered Directly To You

-
With specially selected parts from high energy live keynote presentations, motivational speaker and Karate World Champion Clint Cora will share with you;



The #1 mind-shift that got me through my own personal tragedy

The hidden lesson underneath EVERY life experience

How to get OUT of your comfort zone and why it's KEY to long term happiness


Three micro-changes you can make in your life right now to IMMEDIATELY
get closer to achieving your goals


Secret surprises that will unexpectedly BOOST your personal growth ten-fold


And much, much more!


Just enter your first name, e-mail and click below so we can send you the link to this free inspiration 3-part Personal Development Video Series - privacy policy (you may unsubscribe anytime). Sign up box also at Free Inspiration Videos.