Motivational Business Speaker In Sales Motivation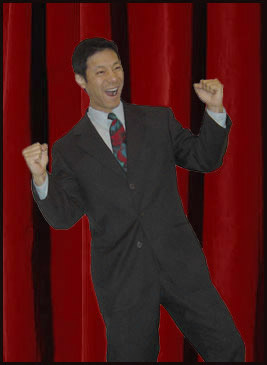 Sales Motivation From Motivational Business Speaker

In addition to recognizing performances and reviewing new sales or marketing programs, one of the functions of corporate sales meetings is to motivate the entire sales force of a company. One of the most effective ways to help your sales force get much needed sales motivation for the next business selling cycle is to bring in an external professional motivational business speaker, particularly one who is familiar with corporate sales and marketing.

Sales Motivation By Motivational Business Speaker Clint Cora
Motivational Business Speaker To Charge Up Your Audience

Clint Cora is such a professional motivational business speaker. Having been in corporate sales and marketing for over twenty years (with fourteen of these years in the pharmaceutical industry), Clint can relate to your sales and marketing audience. Clint has been a sales representative, a sales trainer, a product marketing manager and a national sales manager.
Sales forces can also relate to Clint since he can customize his keynotes with a sales angle. As a corporate motivational business speaker, he understands what it takes to succeed in the sales field and can express his motivational messages in a way to help your sales force perform better - see his article on How To Motivate Sales Forces.
Of course, being a karate world champion, Clint can also bring in examples that are not related to sales and show how they can be applied to the corporate world. The combination of both ideas from the corporate and non-corporate world make his keynotes extremely effective for motivating sales forces and marketing staff. This is why Clint is the ideal motivational business speaker for your next sales meeting. Your entire sales force will be totally pumped up to achieve higher than ever levels of achievement.
See the Corporate Business Motivational Speaker Programs for more details on Clint's keynotes.
You might even consider having Clint combine one of his speaking programs with his three hour Effective Self Defense training seminar for your sales force.

Entertaining For The Entire Sales Force

"A very thoughtful provoking speech with periodic breaks of humor too! Content and fun makes this great speech."

Rukshana Sarkari, Edward Jones Investments

See other keynote speaking testimonials
Effective Use Of Non-Corporate Examples Applied To Business

"I liked your use of visual aids. The martial arts demonstration
was a great addition to your speech and added emphasis
on your points."

Tiffany Chin, Account Manager, Business Development Bank of Canada

See other keynote speaking testimonials
How To Expand Your Comfort Zones To Finally
Conquer Even Your Most Daunting Goals In Life
A Free Live 3-Part Personal Development
Video Series Delivered Directly To You

-
With specially selected parts from high energy live keynote presentations, motivational speaker and Karate World Champion Clint Cora will share with you;



The #1 mind-shift that got me through my own personal tragedy

The hidden lesson underneath EVERY life experience

How to get OUT of your comfort zone and why it's KEY to long term happiness


Three micro-changes you can make in your life right now to IMMEDIATELY
get closer to achieving your goals


Secret surprises that will unexpectedly BOOST your personal growth ten-fold


And much, much more!


Just enter your first name, e-mail and click below so we can send you the link to this free inspiration 3-part Personal Development Video Series - privacy policy (you may unsubscribe anytime). Sign up box also at Free Inspiration Videos.