Doses Of Motivation Self Development Audio CD
By Inspirational Speaker Author Clint Cora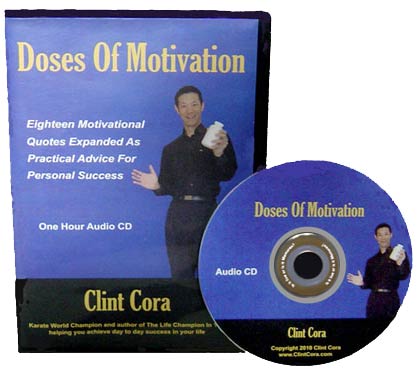 Award-winning inspirational speaker, author of The Life Champion In You and karate world champion Clint Cora has filled this hour-long self development audio CD with eighteen motivational quotes by past and present leaders such as Vince Lombardi, Tony Robbins, Albert Einstein, Nelson Mandela, Thomas Edison, Brian Tracy, Henry Ford, Bruce Lee plus others. There are also motivational quotes by Clint Cora himself.
Each motivational quote is expanded upon in order to present practical advice on your personal success. Clint talks about some very interesting examples on how each quote can be appplied to everyday life.
We all need regular exposure or 'doses' of motivation in order to keep achieving success in life. This entertaining and inspirational audio program will help supply you with some of this much needed motivation in order to keep important success principles top of mind.
You can learn and be entertained while you drive, travel or do work in the house while Clint shares his self development tips. The audio CD is a standard audio CD (not MP3) so it will be playable on any device that plays CDs including car and portable CD players.
This wonderful audio CD program is only $17
Consider the Super Motivation Package which includes a signed copy of The Life Champion In You book, the four-CD audio set PLUS the Doses of Motivation CD at a special package price of $47 (33% savings) and shipping is FREE!

Note that this audio CD version is available only through Free Spirit Gallery Publishing at this time.

----------

----------

----------

-----------