Clint Cora College University Speaker
Testimonials From Students & Staff Who Heard Him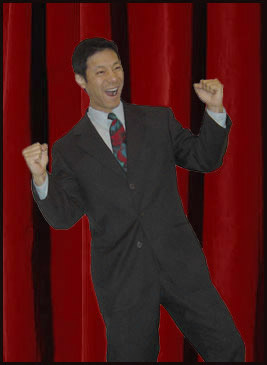 Here are just some of the college and university students as well as staff who have heard speaker Clint Cora. To actually see and hear people who have attended a Clint Cora presentation, see video college testimonials. To see available speaking programs for colleges and universities by Clint, see College Speaking Programs. To book Clint as a speaker, use the Contact link at the top.
"Your ability to get the students interested and interacting with you
was tremendous, especially in the 'lunch room' atmosphere you were
speaking in. Students were very pleased with your lecture and felt that
you presented your topic in an educational,yet humorous way. They now
understand how much being a well-rounded and diverse individual can
benefit them both now and in the future. Once again, thank you so
much for presenting a great program to our students at MVCC."

Sandy Cummings, Student Activities Coordinator, Mohawk Valley Cmty College, NY
"What I learned from Clint are some of the benefits that other cultures can
bring to our society, to our school and our environment and it was
just a great experience to learn all those new and fun activities
that we could do."

Justin Burke, Student, St Joseph's College, NY
"I attended Clint's diversity session and absolutely loved it. What I learned from
it is how to bring a diverse community and actually make them interact
at our college without any hesitation."

Janelle Naiman, Student, Mohawk College, ON
"Two things I liked about Clint's workshop are just having the knowledge
of how to break down those barriers of diversity and knowing the
things that you should and should not do when you're trying to bring
more diverse cultures on campus to your programming events.
I liked it, I enjoyed it."

David Norwood, Student, Hillsborough Community College, FL
"We just hired Clint Cora to start out our year at Gannon University
as a diversity motivational speaker. I really liked it because in
terms of being on campus and even with dealing with the corporate
world, we have so many problems about understanding differences."

"I think Clint did a great job of providing examples as well as
activities where they helped people assimilate into other
groups they might not know or might not talk to. It was really
thoroughly enjoying. I thought even his bo staff was pretty cool
too. That was part of why I wanted to book him. I highly suggest
him for any future speaking endeavors."

Matt Blair, Lecture Chair, Gannon University, PA
"I attended Clint's session. It was excellent, there was lots of energy. I
learned a lot from it. Very versatile. He got everyone involved as it was
very interactive. I recommend it to anyone."

Ben Simpson, Student, St Clair College, ON
"I attended Clint's 'Kicking Down Diversity Barriers' presentation. Very good
food for thought and very applicable to the very diverse demographic
we have. One of the things I learned from Clint's session is that I have to
have a different, wider perspective on what diversity really means. It was
a very constructive and helpful hour and a half for me."

Ian Morton, Events Coordinator, BC Institute of Technology, BC
"I just attended Clint Cora's diversity program and I liked it because he
talked about how there are good reasons for having diversity. It's not only
the right thing to do but it also serves as business purposes and can help
increase the economy. You can make a lot of new friendships as well.
I though it was fabulous."

David Garcia, Student, New York Institute of Technology, NY
"One of the things I learned from the diversity speech is that you need to
know this because it helps you make money in the future. There were so
many good things about the diversity session. The presentation
was very helpful"

Scott Kirkman, Student President, Laurentian University, ON
"I just attended the diversity workshop with Clint Cora and he is
awesome. He talked about how we can be diverse and be alike. He's
very interactive and energetic. He uses his martial arts theme and
it's really cool. I enjoyed it."

Ebony Hollis, Student, Hillsborough Community College, FL
"When I went to Clint's diversity session, I thought it was so awesome.
I thought diversity was just ethnicity as I didn't think you have diversity in
terms of sexual orientation and other things. I was enlightened on
different sources of diversity."

Tolulope Kolawole, Student, Northern College, ON

"I attended Clint Cora's diversity session and I believe that we're living in a
global village and having everyone in one place learning about everyone
just expands our horizons. I think this is a very helpful session and you
should definitely consider it."

Sunny Upadhyay, Student, University of New Brunswick, NB
"I attended Clint's diversity seminar and it was very entertaining. Very good
message and very good information. Overall it was an excellent
presentation and I recommend it."

Darren Maher, Campus Pub Manager, University of Waterloo, ON
"The presentation really motivated me, made me feel stronger
in my goals now. Thank you so much."

Michael Wei, Student, TAIE Institute, Toronto
"Your passion, your ideas were quite impressive and
your presentation helped me a lot. As an Asian,
I really feel more proud of myself."

Jenny Zhu, Student, Imperial College, Toronto
"This speech reminded me that there are so many important
things to do. It was amazing, a really motivated speech."

Feng Shi, Student, TAIE Institute, Toronto
"The action video part was very special. I liked how he
let everyone join in during his speech. I learned
how to achieve my goals step by step."

Junqian Zhang, Student, Imperial College, Toronto
How To Expand Your Comfort Zones To Finally
Conquer Even Your Most Daunting Goals In Life
A Free Live 3-Part Personal Development
Video Series Delivered Directly To You

-
With specially selected parts from high energy live keynote presentations, motivational speaker and Karate World Champion Clint Cora will share with you;



The #1 mind-shift that got me through my own personal tragedy

The hidden lesson underneath EVERY life experience

How to get OUT of your comfort zone and why it's KEY to long term happiness


Three micro-changes you can make in your life right now to IMMEDIATELY
get closer to achieving your goals


Secret surprises that will unexpectedly BOOST your personal growth ten-fold


And much, much more!


Just enter your first name, e-mail and click below so we can send you the link to this free inspiration 3-part Personal Development Video Series - privacy policy (you may unsubscribe anytime). Sign up box also at Free Inspiration Videos.