College Speaker Helping Your Students Develop
Diversity And Life Skills For The Real World ... With
A Unique, Entertaining Martial Arts Angle

If You Are Seeking A High Energy, Dynamic Speaker For
Your College Or University Campus, See Videos Below
---
College Speaker Helping Students Kick Down Campus Diversity Barriers


Available College Speaker Programs
Clint has two speaking programs available for college and university students. Both programs address important outcomes advocated by the 'Learning Reconsidered' (LR) document from NASPA/ACPA.

Clint Cora can also conduct his three hour Effective Self Defense training seminar as a stand alone program or in combination with any of the speaking programs below for students - see previous link for information on his self defense seminars.
'Kick Down Diversity Barriers For School & Career Success'
Since diversity is reality and here to stay, the development of skills to enable students to function well in a diverse world is important for success no matter what future career field. This is Clint Cora's diversity talk that has been

one of the most highly rated educational sessions at campus activities conferences

and now available for your college or university.
Here are some details of this program.
What diversity is plus why it is important for both school and career success

Real life inspiring diversity success examples from the business world

Multiple benefits of developing diversity skills

Awareness of stereotypes and areas to avoid in diversity

How to kick down barriers and develop skills useful in a diverse world

Tips on finding career jobs after graduation in diverse working environments


Fun group activities to explore diversity

Entertaining martial arts to highlight key messages of diversity


Addresses Humanitarianism & Interpersonal Competence LR outcomes

Addresses Cognitive Complexity & Knowledge Acquisition LR outcomes


Available in 30, 45 and 60 minute versions (need full hour to fit in all topics)

A half-day seminar workshop version is also available

---

About Diversity & Dating and More About This College Diversity Program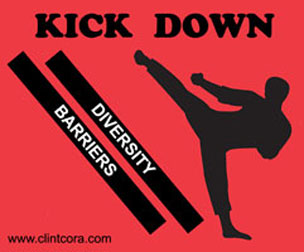 'Creating Winning Futures For The Real World'
This is Clint Cora's main motivational talk modified for college and university campuses. It covers many of the success principles from his book,
The Life Champion In You
. This is an awesome opportunity for students to learn career and life skills from a successful corporate executive and Karate World Champion. Here are some details of this inspiring presentation.
Mindset and attitude required for success in school and future career

Real life comfort zone expansion examples with demonstration

Effective solutions to overcome procrastination, lack of time and more

Top secrets to becoming future successes in the real world after graduation


Multiple universal lessons from Clint's own journey as well as from others

Entertaining martial arts and weaponry to illustrate some key messages

Additional motivational tips to help students succeed in diversity and life

Addresses Knowledge Acquisition, Integration & Application LR outcome


Available in 30, 45 and 60 minute versions (need full hour to fit in all topics)

Note that Clint can do his corporate versions of the above two talks specifically for faculty and staff.
His martial arts elements also make Clint a perfect speaker for any
Asian Awareness Month
or
Asian Heritage
cultural event as well.
Contact Clint Cora For Booking Information
To explore the possibility of having Clint Cora as a college speaker at your campus, send an e-mail to
contact (at) clintcora.com
- replacing the (at) of course or call us at
905-814-5763
.
---
Clint can also make his books available for your students as continued educational resources. This will help reinforce key messages as well as motivate your students on a regular basis for achieving success after they have heard Clint speak. Of course, Clint will always make himself available to personally sign books and speak to students after his presentations.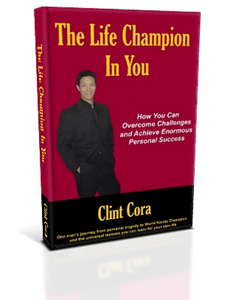 A template for a promotional flyer which can be used at your campus can be provided. Clint can also work with your campus radio and newspapers in advance to help further promote the speaking event. A set of college success articles can also be supplied for your campus newspapers or newsletters.
Kept Students Interested Even In Tough Atmosphere

"Your ability to get the students interested and interacting with you
was tremendous, especially in the 'lunch room' atmosphere you were
speaking in. Students were very pleased with your lecture and felt that
you presented your topic in an educational, yet humorous way. They now
understand how much being a well-rounded and diverse individual can
benefit them both now and in the future. Once again, thank you so
much for presenting a great program to our students at MVCC."

Sandy Cummings, Student Activities Coordinator, Mohawk Valley Cmty College

See other college university testimonials
Student Links Diversity Skills With Future Career

"One of the things I learned from the diversity speech is that you need to know this because it helps you make money in the future. There were so many good things about the diversity session. The presentation
was very helpful"

Scott Kirkman, Student President, Laurentian University

See other college university testimonials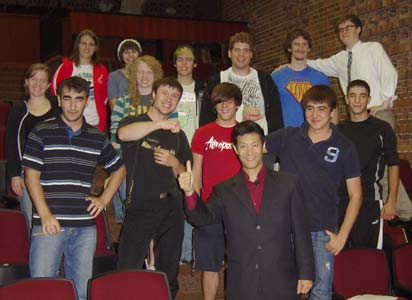 College Speaker Clint Cora With Gannon University Students
Helps People Assimilate With Others On Campus

"We just hired Clint Cora to start out our year at Gannon University as a diversity motivational speaker. I really liked it because in terms of being on campus and even with dealing with the corporate world, we have so many problems about understanding differences."

"I think Clint did a great job of providing examples as well as activities where they helped people assimilate into other groups they might not know or might not talk to."

Matt Blair, Lecture Chair, Gannon University

See other college university testimonials
Staff Considers Diversity Program Very Applicable

"I attended Clint's 'Kicking Down Diversity Barriers' presentation. Very good food for thought and very applicable to the very diverse demographic we have. One of the things I learned from Clint's session is that I have to have a different, wider perspective on what diversity really means. It was a very constructive and helpful hour for me."

Ian Morton, Events Coordinator, BC Institute of Technology

See other college university testimonials

Again, to explore how you can bring Clint Cora as a college speaker to your campus,
send an e-mail to
contact (at) clintcora.com
- replacing the (at) of course or call us at
905-814-5763
.