Clint Cora Rock Guitarist Songwriter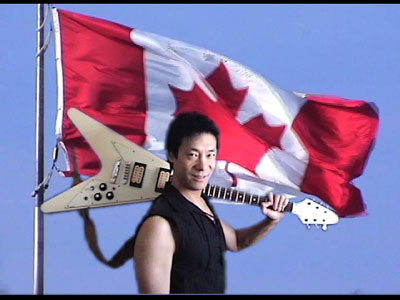 Rock Guitarist Songwriter Clint Cora



Clint Cora Music Background
Believe it or not, it turns out that Clint Cora has been playing music even longer than he has been training in martial arts, the field that he is primarily known for. Clint started classical piano lessons at age five and then in his early teens, taught himself how to play guitar.
Throughout his later teens, Clint fronted rock bands which played live concerts and even went into recording studios to record music projects. He usually served as the main songwriter, lead vocalist as well as lead guitarist. His musical style is centered in the hard rock vain but does expand into the jazz rock and pop rock gendres at times.
If you have never heard Clint play music before, a nice mainstream video to introduce you to his musical side would be the one below of him playing Eric Clapton's acoustic unplugged version of Layla.
Clint Cora Playing Eric Clapton's Acoustic Layla

Below are two music videos featuring Clint Cora's rock guitar versions of the Canadian national anthem, O Canada and the US national anthem, The Star Spangled Banner.
Clint Cora Playing The US National Anthem
The Star Spangled Banner

Clint Cora Playing The Canadian
National Anthem O Canada

Returning back to a softer and more mellow side, here is Clint performing an acoustic unplugged version of Hey Hey My My by Neil Young.


Clint Cora Playing Neil Young's Acoustic Hey Hey My My


Want To Send A Unique Birthday Greeting? Send Happy Birthday Below

Share using link http://youtu.be/ckamEqaSNZc


Motivational WebTV Episodes Featuring Clint's Guitar Playing
Clint has brought out his guitar during the odd episode of Motivational WebTV to illustrate certain personal growth points. Below are such episodes.
---

How To Expand Your Comfort Zones To Finally
Conquer Even Your Most Daunting Goals In Life
A Free Live 3-Part Personal Development
Video Series Delivered Directly To You

-
With specially selected parts from high energy live keynote presentations, motivational speaker and Karate World Champion Clint Cora will share with you;



The #1 mind-shift that got me through my own personal tragedy

The hidden lesson underneath EVERY life experience

How to get OUT of your comfort zone and why it's KEY to long term happiness


Three micro-changes you can make in your life right now to IMMEDIATELY
get closer to achieving your goals


Secret surprises that will unexpectedly BOOST your personal growth ten-fold


And much, much more!


Just enter your first name, e-mail and click below so we can send you the link to this free inspiration 3-part Personal Development Video Series - privacy policy (you may unsubscribe anytime). Sign up box also at Free Inspiration Videos.