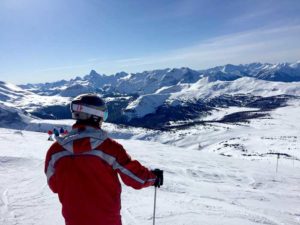 Winter Ski Fitness Program
So looks like my fall season fitness program took a bit of a detour from the plan.  Not that I became a slouch or anything.  It's just that the new Meadowvale community centre near me opened up and they put on a promotion that involved free ten visits to their swimming pool.  So even though I found out about it about half way into their month long promotion, I still got eight swimming workouts in for free but I had to squeeze this into a period of just over two weeks.
For me, that's a lot of swimming within two weeks. My original fitness plan was to get into the swimming pool only once per week so I basically increased my workouts in the pool by four times!
During this intensive swimming period, my non-pool days were left for strength training and hiking with my social and small dogs outings groups.  I cut out martial arts for this last part of my fall fitness program.
First Ski Day Soon
So now that the weather is colder, the local ski resorts are starting to blow snow.  My first day of skiing can happen very soon as a result which will result in switching over from what's left of my fall season fitness program over to my winter ski fitness schedule.
Like my original fall season fitness program, I have decided that I want to retain swimming once a week for the entire winter.  The overall cardio and toning benefits of swimming are just too good to ignore until next summer.  So this is what my winter ski fitness program will look like.
Mondays – ski training
Tuesdays – swimming
Wednesdays – ski training/teaching
Thursdays – strength training + super stretch
Fridays – ski training
Saturdays – ski training/teaching
Sundays – ski training/teaching or martial arts
So this program is still very much ski intensive but at least I'll still get in some swimming and strength training as supplementary fitness.  Also, doing martial arts once per week will help me maintain my martial arts forms so that I don't completely forget them over the winter.  I'll just have to make sure that I pack a hair dryer to the swimming pool so my hair doesn't end up freezing on my way home!