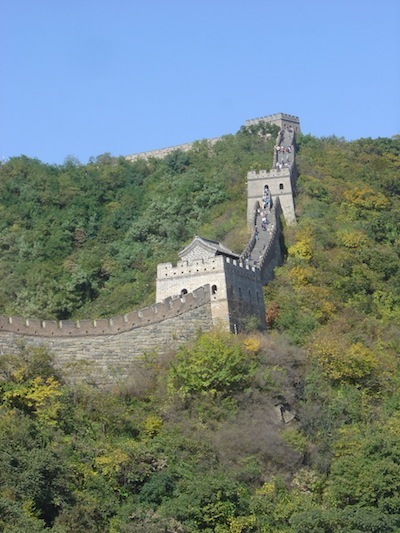 Visit Great Wall Of China Really Cheap
Okay, so let's say you made it into Beijing, China like I did when I showed you the last Motivational WebTV episode where I risked my life crossing crazy Beijing traffic.  Of course, you will likely want to visit the Great Wall of China, one of the man-made wonders of the world.
Of course the really easy way is to take in an organized group tour where a bus will pick you up at your hotel and provide a no-hassle and convenient way to finally tour the Great Wall.  Such tours of course are not inexpensive and I wanted to check off this personal bucket list item off on my own.  So I did a lot of prior research before I left Canada and with my own travel experience there, I can now provide you with a really cheap way to visit the Great Wall.
The video version as my travel guide and episode of Motivational WebTV is near the bottom of this blog post.  But first the text details as well as some really nice photos.
Mutianyu & Badaling Great Wall
In general, there are two main areas of the Great Wall of China you can visit when in Beijing.  The most visited area is known as Badaling and is about 45 to 60 minutes away.  Badaling is also very touristy.
I chose to visit the Mutianyu area instead since it is not as crowded and is generally considered to be in an area of much nicer natural scenery.  Mutianyu is a bit further out at about 90 minutes away.  So the rest of this post will be focused on Mutianyu rather than Badaling since it is the area that I went to.
Use Public Bus To Get To Great Wall
One can easily get a taxi to take you to Mutianyu and the driver would be willing to wait until you are finished touring the Great Wall but of course this is not the cheapest way to get there.  The public bus would actually be the most inexpensive transit and this is the what I took for my own tour.
What you have to do first is get to Dongzhimen station in Beijing, which is a big bus and subway station.  Either stay in a hotel nearby and walk there (which is what I did) or use the Beijing subway to get there which is really cheap at 2 Yuan (about 34 cents Canadian).
It is also possible to get there from the Beijing airport with the airport express train which costs 25 Yuan ($4.30) but since the public bus to Mutianyu is an early one, you would be advised to overnight in Beijing the night before.
Dongzhimen station is on the northeast corner of the 2nd Ring Rd and Outer Dongzhimen St intersection but the public bus that you want to take is not actually at the station itself.  You have to exit the station and walk along east on Outer Dongzhimen St for about a block (print out a Google or Mapquest map to help you get your bearings).
There is a large shopping centre called Guoson Centre with the Guosheng Fashion area next to Dongzhimen station.  Walk by it and the first side street going north is Dongzhimen Outer Byway (although I don't recall any street signs).  You have to take this side street and walk north for about five minutes.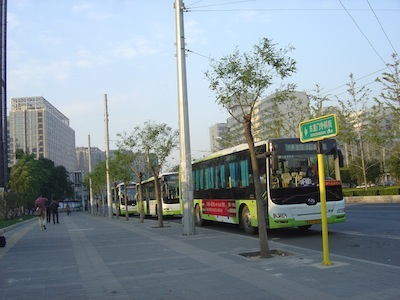 On this side street, you will see other public buses lined up as pictured above.   Keep following the street as it curves up to the right.  Soon you will come across a small outdoor bus station on your left – the opening to this outdoor station is pictured below.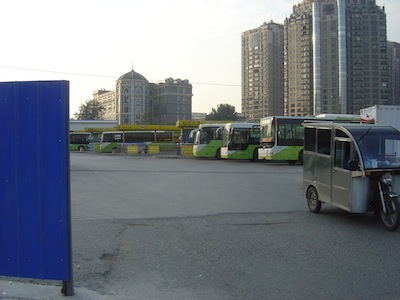 Walk into this outdoor bus station and go all the way down to the end to the stop for bus #867.  This bus #867 operates only from about late March to mid November during the high tourist season and costs only 16 Y ($2.75) each way.
Although bus #867 will stop at many stops along the way to Mutianyu, the Great Wall destination will be the final stop.  You have two different times to board this bus in Dongzhimen – 7 am and 8:30 am.  I took the 7 am one.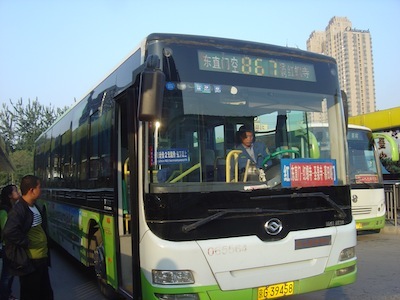 The bus will get crowded as it picks up many local passengers along the way but most will get off before Mutianyu.  Each bus has a driver as well as a conductor.  It is the conductor who will come around and collect your fare.
During non-rush hours, a taxi cab can get to Mutianyu in 1.5 hours but with rush hour traffic, this bus took almost three hours to get from Dongzhimen to Mutianyu.  Just prepare for a long haul.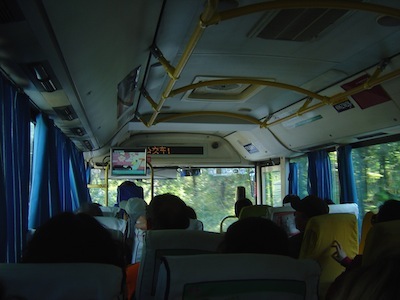 The bus will stop at the parking lot at Mutianyu where the other tour buses park.  The return bus #867 will be there at 2 pm and 4 pm to take you back to Beijing and the cost again is 16 Y.
During the off season, there is another bus #916 that can take you to a station near Mutianyu and you would take a minibus from there to get to the Great Wall.  I don't have any experience with this route but it does exist as another alternative if bus #867 is not available.
Arriving At The Great Wall At Mutianyu
After arriving at the bus stop, you walk through the vendors area to the ticket booths.  The admission to the Great Wall is 45 Y ($7.75).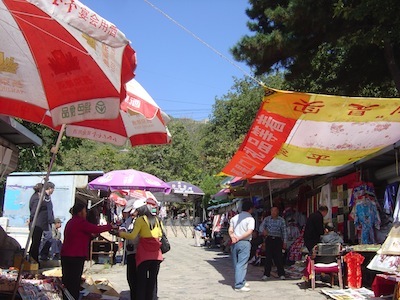 There are two main ways to get up to the Great Wall.  The easiest way is with an optional cable car (you can see the cable car towers below) and it costs 45 Y for a single ride or 65 Y ($11) for a round trip.  Instead of taking the cable car back down, you can also take a fun slide down with this round trip price.
Instead of taking the cable car, I chose to walk up one of the hiking trails with steps all the way up and all the way down.  I think it took me about 30 minutes to hike up to the wall. In hindsight, I should have taken the cable car because the Great Wall itself has many steep sections that are physically challenging enough.  These combined with the hikes up to the wall and back down totally exhausted me.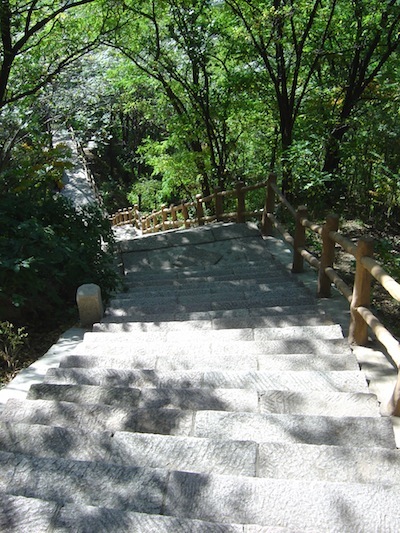 On The Great Wall Itself
Before you go up the Great Wall, take your washroom break first because there are no facilities up on the wall.  Once you are on the wall, prepare for a few hours (maybe even bring lunch which is what I did).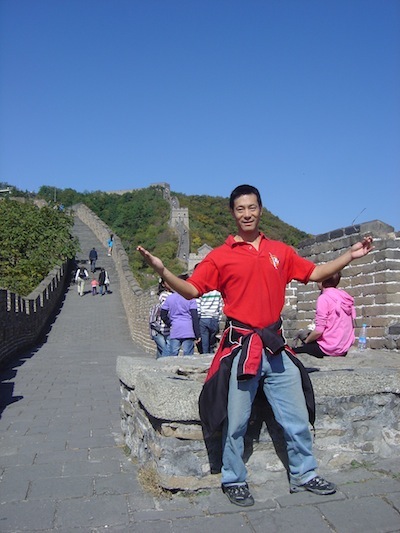 Again, there are steep sections so even walking along the Great Wall will not be leisurely all the way.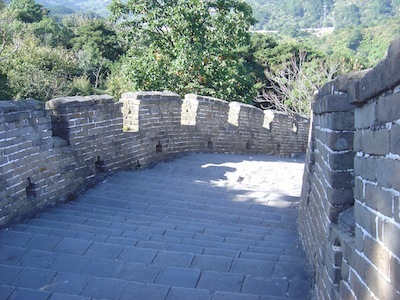 It can get quite hot during the summer and even during October when I was there especially with the sun shining while climbing those steep steps. When I was there, I did see vendors along each watch tower selling cold drinks and even beer!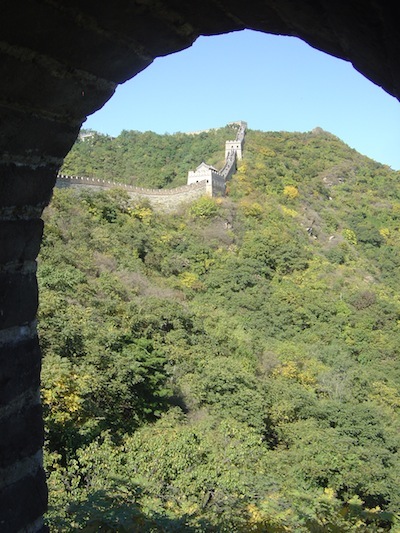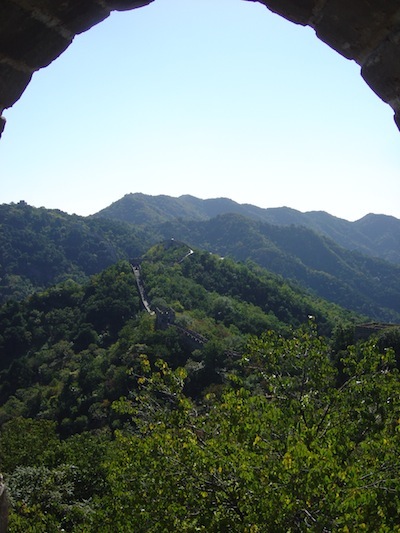 There are some really nice views from the various watch towers as well. Do take your time to admire them. I even had my lunch inside one of them (and to get some shade as well).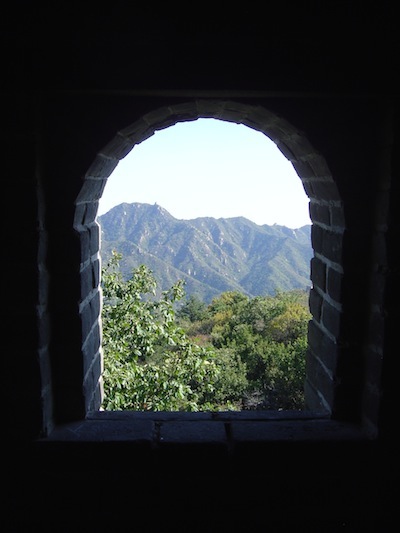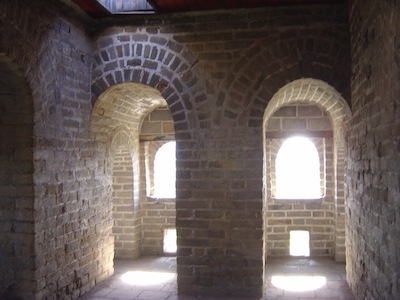 At End Of Great Wall Tour
The three hour bus ride to Mutianyu got me there by a bit after 10 am. I spent about three hours walking along the Great Wall from the furthest point east to near where the cable cars are including my lunch inside one of the more remote watch towers I had all to myself.  This is one of the benefits of Mutianyu compared to Badaling. Since there are fewer tourists here, I found that quite often I would be the only person on a stretch of the Great Wall.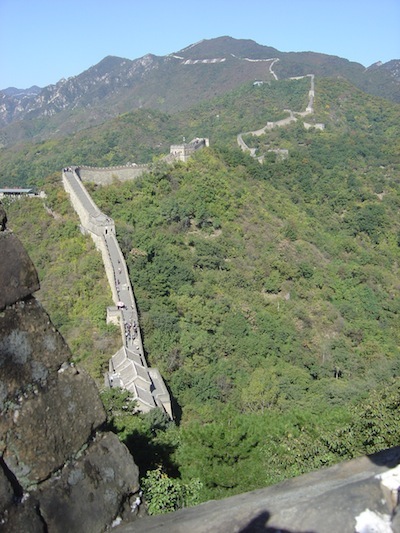 But the three hours up there on the wall was more than enough. Fortunately the walk down one of the west hiking trails (I walked up one of the east trails), was easier than climbing up. I made it down by about 1 pm with an hour to spare for the first return bus.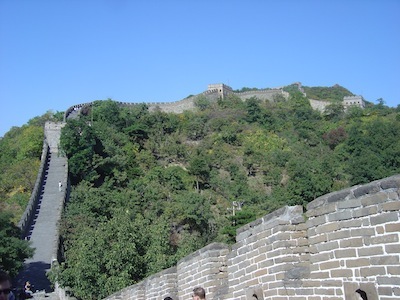 In addition to a cold drink, I decided to buy a chicken pancake freshly made by one of the vendors. I forgot the exact price but it was pretty inexpensive.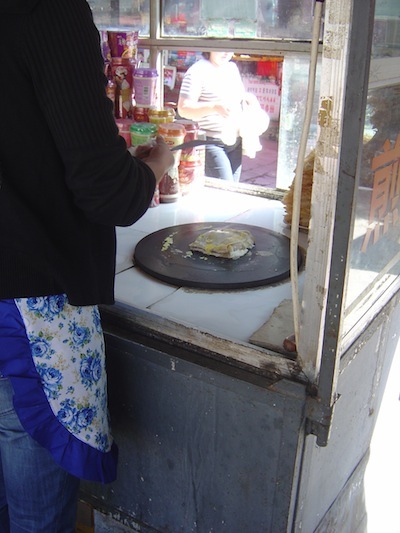 There will be other vendors trying to sell you all types of little souvenirs but I no longer buy these things. I just decided to sit outside near a Subway restaurant at the base until it was time to walk back to the parking lot to catch the return bus.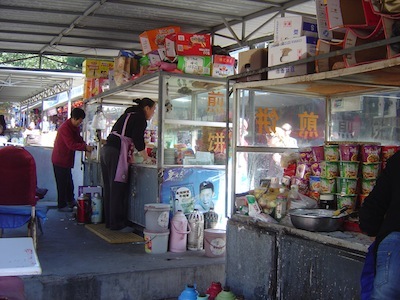 So overall, I'm glad that I was able to check off one of my bucket list items this way. I did it very inexpensively and wouldn't really change a thing maybe except to take the cable car and use the slide down. Although it was a long bus ride, I did get to take in a bit of how the locals live and commute each day.
Here is the Motivational WebTV video episode which shows you inside the watch tower I had all to myself as well as a video summary of the steps to take if you want to tour the Great Wall of China really cheap.
Share This Great Wall Of China Travel Video With Others
I hope this video and blog post is useful for future travellers to China. The public bus is not easy to find but hopefully with the photos and description on directions, you will be able to find it and also take advantage of this inexpensive route to the Great Wall of China at Mutianyu.
Please share this post and video with others.  There are buttons on the blog post to easily share it on Facebook, Twitter, LinkedIn and by email.  All past episodes are at my Motivational WebTV Archive.
The last episode before this one was the crossing crazy Beijing traffic.
Feel free to enter your comments about the Great Wall of China below.