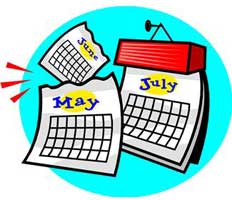 Midyear 2017 Goals On Track?
So we are just past the midyear in 2017 and I find that it is extremely important to take a moment of time to re-evaluate whether we are on track with our goals we set at the beginning of the year — you did set some personal goals for this year did you not?
MUCH too often, we let our day to day lives including work, commuting, keeping on top of bills, getting groceries, etc., make us lose sight of goals we had set at the beginning of the year. Six months has past by and with many people, none of their goals have even been worked on.
So do take some quiet time and dig out any paper record that you had of your 2017 goals or if you never even created any, start with a blank sheet and go ahead and draft some up since it's never too late to do so even at midpoint of the year.
Are you on track with your goals or are you behind on some of them?  Or have you actually forgotten about certain goals again because day to day life just got in the way?   If this is the case, now at the midyear point is the time to get them back on track.
Maybe certain goals were just too big and overwhelming.  Well, you need to break these big goals into much smaller doable goals in some sort of logical order so that at no point they will be too overwhelming that causes you to give up on them.  Take the time to do this exercise with any big goals you have.
Did You Procrastinate Too Much So Far This Year?
The danger of letting day to day life take over is that you might end up procrastinating too much. You have to be honest with yourself — did you procrastinate too much so far this year from January to June?
If you did, may I suggest you set aside a quiet evening or time on the weekend to plan out your goals and how you are going to achieve them for the second half of 2017. I'm sure that you really do NOT want to get to the end of the year and look back in disappointment that you have not made much of a difference in yourself with respect to personal goals. Who would want to have the 'same old, same old' in their lives year after year but in fact, this is exactly what is happening with many people out there.
But just because it happens to others, it does NOT mean that you have to do the same. Sure, there is certain comfort in knowing that others out there are big time procrastinators too but in the end, that does not result in a fulfilling life.
My Own Goals On Track For 2017
I have goals covering all aspects of my life including health, fitness, financial, social and even goals that cover very specific areas like my dogs and specific passions like skiing and scuba diving.  Obviously with the Canadian winter behind me, my skiing goals were reached during the first quarter of 2017.
I am on track with my general health and fitness goals too as my summer fitness program is now underway.  My winter and spring programs were faithfully followed.  Even the goals set for my dogs which was mainly to keep them active and healthy were met so far since we've been going out regularly with our small dogs group.
Be Adaptable To Changes
Of course, things come up in life which always result in changes in our lives. These understandably can change your goals a bit but don't let them become excuses for not achieving them. It's too easy to blame life changes.
For example in my case, I was hoping to add another property to my real estate investment portfolio and actually went ahead with the steps to do it all the way to making an offer for a townhouse in Waterloo. But the deal fell through although I was ready to go after a different property.
Then news of the real estate values in my own neighbourhood influenced me to change my real estate goal for this year and focus on renovating my own house for a possible sale and relocation instead. So as I write this, I've been buried in home renovations for 1.5 months (but still carried on with activities towards my other goals like health). So I'm on track with a modified goal.
The important thing here is that you need a system to set and track your goals throughout the year. If you do not, then you will not be successful by the end of the year in terms of achieving any of your goals for 2017.
In my book 'The Life Champion In You', I go into more detail on the system I use for my own personal goals. If you are completely lost without such an effective system for achieving your own goals, the ideas and examples I include in my book will be a good read for you.  And for those who really want a full blown step by step program to develop goals, there's always my Action Plan Creator program
Take this article as a reminder to yourself that your personal goals are important but if you have let them slip away so far this year, it's time to get back on track with them as you have another six months left for 2017.  Make the second half of 2017 your most productive and satisfying.