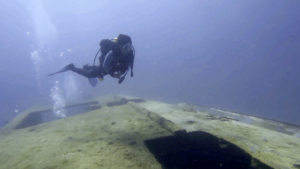 Scuba Diving US Navy Shipwreck
My last blog post showed the video of the sea lions scuba dive which was the main attraction for me during my recent trip to La Paz, Mexico.  But there were other dives which were quite interesting too including scuba diving a world war 2 US Navy shipwreck.
This was the USS Diploma which was used during world war 2 as a minesweeper.  After decommissioned, it was subsequently sold to the Mexican government who had it sunk in the waters near La Paz as an artificial reef for scuba diving.
As you will see in the video of this dive, it was like going on a mission or expedition to the shipwreck.   Not only did we get to go around the wreck, but we penetrated the inside of it too at one point.
Shipwrecks are another element of scuba diving and like natural coral reefs, they can often attract a lot of marine life as well.  In this case, this wreck was a metal one so unlike wooden shipwrecks in salt water, the ship is still in really good shape.
Being able to experience what I did during this shipwreck scuba dive is something that many other people can also have as well.  One just needs to become a decent swimmer and then take the scuba diving certification course to become a certified diver.   It is truely quite inspirational just to see such as shipwreck in the ocean up close along with the marine life on it.