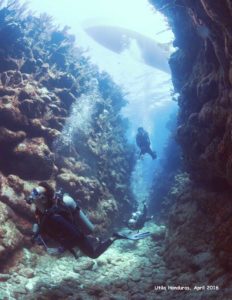 Scuba Diving In Bay Islands Honduras
With a bit of video footage of scuba diving in Bay Islands of Honduras, it turns out that I am able to produce a third travel video from my recent Central America trip after all. If you missed the first two clips, you can see them at the El Salvador article and the Copan Mayan Ruins article.
Like all of my tropical destination travel, my main activity besides experiencing local culture and cuisine is scuba diving.  This trip was no exception as I spent three days diving in the island of Utila and one day at Roatan.  My main objective for this scuba diving trip was to see whale sharks in Utila which is why most of my dive days were allocated there. Unfortunately, there were no whale shark sightings during the entire three days at Utila but I did get to see and experience some really cool marine life encounters there.
One encounter involved a moray eel.  These creatures are usually found among rocks and coral with only their heads poking out.  Rarely do we ever see them come out.  But during this one dive in Utila, we were warned of a possible aggressive moray eel that likes to harass divers and sure enough, we got one.
Not only was this moray eel swimming out in the open showing it's entire six foot length, it had a definite interest in our group of divers.   At one point, it came straight towards me.  This was a first in my 120 open water dives so far as I never had a big marine animal intentionally come at me before (not including the friendly dolphins during my dolphin dive at Freeport, Bahamas).
As instructed during the dive briefing, I kicked out my dive fins towards it and it turned to our divemaster instead.  Even though another divemaster spotted a nice sea turtle, we kept looking around for this moray eel to make sure that it didn't come up from behind us while trying to admire the turtle at the same time.  so this was one exciting dive!
Another neat encounter was at Roatan where three very large groupers checked us out pretty close.  Again, groupers rarely show any interest in divers and although I have seen them in dives before, I have never seen more than one of them at a time.  This time, there were three of them who came quite close to us and stayed around for awhile.  We were briefed about them in advance of this dive since these are known groupers that get fed at a local resort so they were looking for food handouts.
Scuba Diving With Nurse Shark
It's too bad I did not get any video footage nor photos from the moral eel and trio of groupers but fortunately our divemaster in Utila, Shaun Doyle, captured both a bit of video and photos of our encounter with a nurse shark.  I have seen nurse sharks before and they are usually quite docile prefering to just stay at the bottom of reefs.
This one particular nurse shark in Utila was uncommonly active as it swam among us for awhile.  It never showed any aggression as it retained the typical docile nurse shark temperment but I have never seen one so active before especially around scuba divers.  Here is the bit of video I got with this nurse shark encounter.
Here are some more photos of my scuba diving experiences captured by Shaun Doyle, originally from Texas.  He is a dive instructor and was our divemaster for all three dive days in Utila.  I saw him carry a camera down on every dive we did.  More of his work can be found at Shaun Doyle Photography.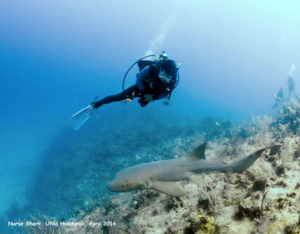 Shaun took the underwater footage of the video above as well as all the photos featured in this article.  As a side note to all photography enthusiasts here, all underwater photos need extensive colour correction.  Below is the original version that Shaun took of me going throught the coral crevice.  As you can see, the shot has a lot of blue and green which is typical of underwater photos.  The deeper the shot is taken, the more lost of natural colours occur, especially reds.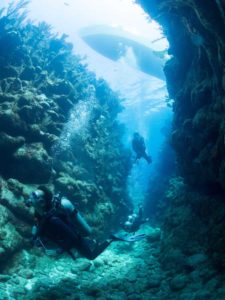 I downloaded a Photoshop action commonly known in the dive photography community as the Mandrake action.  By putting dive photos through the Mandrake action, about 90% colour correction can be achieved.  Then further adjustment of the colours in Photoshop will get decent end results.  You can compare the original photo above with the colour corrected version at the top of this article to see dramatic improvements.  Even the underwater video was colour corrected in Photoshop before I edited it in Final Cut Express.
Scuba Diving Vacations
So as you can see, unlike the mass tourism market, I refuse to spend my vacation time lying on a beach (beach whale) or taking the booze cruises.  I do get up early in the morning even during vacations just so I could get to the morning dive boats and experience this wonderful underwater world.
Although most dive boats are not nearly as nice as tourist catamarans used for booze cruises, as a scuba diver I actually get to see more of the coastlines of islands during the dive boat transits (which can take an hour as in Utila) to the dive sites than what most tourists see on the pleasure boat rides.  This is a bonus in addition to the diving of course.
Much like what I did with snow skiing, I'm slowly starting to build a scuba diving community within my social Meetup group GTA Free Spirits. We will help people become certified scuba divers and once they are certified, they can travel with us to dive the oceans and hopefully get cool experiences like I did on my dives.