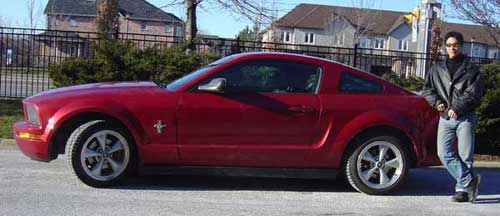 Motivational Speaker With New Car
A few weeks ago, I wrote about how minimalism doesn't jive with my personal development when it comes to cars.  Specifically, I was talking about how I like to splurge a little to drive nice sports cars.  Although I do like many aspects of minimalism and do practice it in my day to day life at times by things like eating more at home, I won't go as far as giving up my love for sports cars.
Having said that, I still did pretty well in squeezing as much as I could out of my black 1997 Eagle Talon which I've had when it was new.  I'm finally retiring it to a scrapper today with over 306,000 kilometres on it.
So even though I did not go minimal in terms of driving cars by choosing the most economical sub-compact car, I did drive my Eagle Talon for 14-15 years.  I have to admit that I did have to spend money on some fairly major repairs especially during the last couple of years but still, when stretched out over the time I drove it, I did pretty good.
As you can see, this Talon, actually my second one ever as I drove an earlier model before 1997, was still a hot looking car compared to most other cars on the road.  It's one of the reasons why I still enjoyed driving it for so many years.
Even when I went up to a Canadian Armed Forces base earlier this year as a diversity motivational speaker, the meeting planner's twenty something son was quite impressed by the Eagle Talon, probably not realizing that it's a 1997 car.  The car still cruised the highways with confidence.
Of course, like many good things must come to an end.  I would have liked to drive the Talon through at least one more winter especially since the snow tires on it were only one season old.  But it failed to pass the emissions test miserably and my license is up for renewal (along with proof of an e-test pass) in February.  There was no way that I was going to spend the money just to get it to pass the emissions.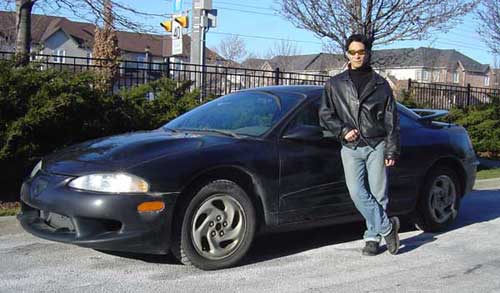 Out With The Old, In With The New
So it was out with the old and in with the new as I had already had the Eagle Talon's successor in mind.  They don't make Eagles anymore and the closest vehicle now is the related Mitsubishi Eclipse, which I'm not that crazy about.  My eyes were on either the new Mustangs or Camaros, both recently updated in recent years.
I chose to go for a Mustang but keeping within a relatively minimalistic choice within that line, I didn't spring for the GT or Shelby models which would have much more horsepower than I actually need.  So I found a few black and red V6 models.
I ended up making a deal on a candy apple red Mustang as my sexy new ride as you can see at the top of this post.  In a way, it's a break in a pattern for me as it's the first non-black, rear-wheel and domestic car I've owned in decades. But that's okay since the red is so darn sexy on this car and Ford has really improved its quality of cars.
As for the rear-wheel drive, I've got a set of four new snow tires installed on it and have added 100 pounds of extra weight in the back for more traction.  The car has ABS and traction control according to the dash.  The 100 pounds by the way are four bags of material for our dog litter box at home since my two Lhasa Apso dogs are trained to use one – if you don't believe me, see their dog litter box video demo. So I should be okay for the winter driving ahead of me.
In a way that still is a bit in the minimalism spirit, I won't be putting that much miles on this Mustang like I did with the Talon.  I drove the Talon around as my business vehicle for many years during my pharmaceutical sales career.  Since I don't have to commute anymore, the only driving I'll probably do is just around locally for errands and to the ski slopes which is seasonal.
I'll make the odd long trip since if I have a motivational speaker engagement within say six hours driving time, I'll likely choose to drive rather than fly.  I already took it for a four hour round trip up to Blue Mountain, my favourite local ski resort and I must say that it was a real pleasure to drive it while listening to its intoxicating engine sound.
My dogs Chester and Roxie will take a ride in it for their first time today as we make a visit to one of our local leash free dog parks.  I wonder how they will like the new Mustang.
Maybe after the winter is over, I'll shoot a new episode of Motivational WebTV with the Mustang.  But in the meantime, I will have a few surprises lined up for new episodes coming this winter so please do stay tuned!
Here's another shot of my new ride and feel free to make any comments about cars in general below.