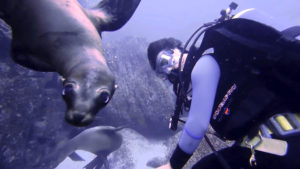 La Paz Sea Lions Scuba Dive
My last post showed a video on the pretty healthy fish life of La Paz during scuba diving in the Baja region of Mexico.  Specifically, these dives were in the Sea of Cortez.
The main reason why I chose to travel to La Paz in the first place was for the sea lions.  There are not many places in the world where you can scuba dive with sea lions in the wild and they were next on my list after the awesome experiences I had scuba diving with manta rays last year in Hawaii.
I knew that the travel to La Paz was going to be rough and the cost of scuba diving would be at a premium compared to many other dive destinations around the world.  But I was willing to put up with the three flights from Toronto to La Paz and spending about 50% more on scuba diving compared to your average dive destination just for this unique opportunity.  And I was not disappointed!
There are two sea lion colonies near La Paz with the main one of about 300 sea lions at Isla Islotes, an isolated island about an hour boat ride from La Paz.  I did two dives here.  The other sea lion colony is smaller at about 100 sea lions at San Rafaelito, a even smaller island about 30 minutes from La Paz.  I did one dive at San Rafaelito and it is small enough to actually circumvent the entire island during a dive.
The colony at Isla Islotes is the main attraction in the area for sea lion observers.  Boats go out there to watch the sea lions with snorkelling and scuba diving options.  It's usually the younger sea lions who are the most curious with divers as the older ones usually stay in the background just to oversee things.
We were told in advance that the younger sea lions would not hesitate to get right you our faces and maybe even start nibbling at our fins, masks, and anything else that sticks out.  Fortunately, I arranged with the scuba diving operator, Trevor Brown of Baja Connections, that we get my dives with the sea lions on video.
Here are the best moments we captured from the Isla Islotes dives and as you can see, the sea lions are like puppies.
We start our dives at Isla Islotes checking out the marine life in the deeper areas before venturing back towards where the sea lions hang out which is only about 15 to 20 feet in depth. As a result, we were able to stay down in the water for about an hour at a time.
After the first dive, we were able to spend additional time snorkelling as our surface interval in between dives. This got us even more time watching the sea lions.
On my final day of diving La Paz, we did the dive around San Rafaelito to check out the smaller sea lion colony. Here, the ones who came around to check us out in the water seemed to be older sea lions and therefore a bit larger than the ones we saw at Isla Islotes. But the encounters we had at Isla Islotes were a bit better as the younger ones came up closer to us. Maybe it was just timing and there were less younger sea lions at San Rafaelito but it was still worthwhile diving there.
Overall, the scuba diving with sea lions at La Paz is definitely world class. I know that there are other places in the world to dive with sea lions like the Galapagos Islands but you have to spend a fortune for those dive trips. I don't know if the sea lions down there get as close to us as the ones at La Paz do. So definitely for any scuba divers (or snorkelers) who want to get sea lion encounters, I would recommend going to La Paz for sure.
By the way, I saw a new line of 2017 calendars featuring ocean marine life themes which all fans of the underwater world will find interesting.