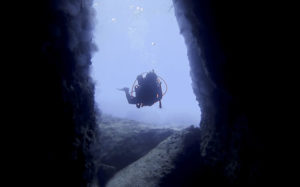 Scuba Dive If You Can Swim
In my last post, I showed you a very inspirational moment I had while scuba diving in La Paz, Mexico.  It was a video showing you my best ever sea turtle encounter.   In this post, I will show you another video I produced from that trip.  This one will show you some of the typical marine life fish I saw in the water during my dives in the area.
As you will be able to see from the video as well as the photo above which is from the clip, the marine life is very healthy down in the La Paz waters since it is a protected marine park.  Lots of fish as well as other marine animals.
As I was reviewing the video footage and then watching the finished, edited clip, what came to my mind was asking why would anyone who can swim, not want to do this?   If you can swim, why would you not want to scuba dive so you can see and experience a similar ocean scene like I did.
Many people who saw this video and the photos from my trip were in awe of my experience in the ocean.  They saw it as something like they would see in National Geographic or some ocean documentary.  But the fact is, if they can swim, all of these experiences are actually accessible to them.
They just have to learn how to scuba dive.   Before I get into more details of what is involved, enjoy the video itself here first.
Scuba Diving Certification
To many people out there, scuba diving with all of its equipment, seems to be an extreme sport or activity. The fact is that recreational scuba diving is not extreme. It does however require professional training in new skills used in the water as well as knowledge about physics and physiology related to the body and the ocean. There is also a lot of safety factors and skills that need to be learned.
All of this is learned through the scuba diving certification courses provided through training agencies such as PADI, SSI and NAUI. These courses can be either a very intensive weekend or over a few weeks, one night per week. Time in the classroom as well as sessions in the swimming pool will take up most of the scuba diving certification.
To finish off the complete certification, one will need to demonstrate the skills learned in the pool but in an open water scenario which means in a lake, river or ocean. A written test is also required to be passed to demonstrate the knowledge learned in the classroom.
The only prerequisites for taking the scuba diving certification course is being able to swim and not have any medical conditions that will disallow an individual from scuba diving. All details would be available at your local scuba diving shop.
So as I enjoy this video again and eagerly plan my next scuba diving adventure trip, I once again ask, why would anyone who can swim, not want to do this?