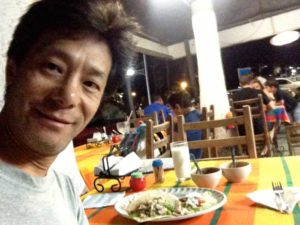 How To Eat Cheap In Baja Mexico
The Baja region, especially Cabo San Lucas, is an expensive destination unlike other parts of Mexico.   It is very commercialized and geared towards North American mass tourism with pricey resort hotels, restaurants and souvenir shops galore.  There are also many bars and 'booze cruises' that cater to the big time partiers whom are not really concerned about getting an authentic Mexican cultural experience during their vacations.
And of course, the businesses catering to all of these North American mass tourists all gouge them with high prices since many of these tourists feel more comfortable in a service as well as cuisine atmosphere that is similar to home.
Baja is not the only place in Latin America or other parts of the world that does this.  Many foreign markets know that North Americans and many Europeans are willing to pay more in order to vacation with similar comforts of home.
But for many of us who would like to vacation without paying unnecessary premiums and get superior cultural experiences, there are many options available.
Authentic Mexican Cultural Experience
First of all, if travelling to the Baja region, don't stay in Cabo San Lucas where the majority of tourists will end up.  I did my research reading articles and viewing travel videos and decided that instead of staying in Cabo San Lucas for my recent trip, I would stay in La Paz and San Jose del Cabo.  There were towns that were simply more Mexican than Cabo San Lucas which is now very overcommercialized in my opinion.
La Paz and San Jose del Cabo had much fewer tourists and more Mexican locals residing there resulting in less busy areas.  These towns were much more pleasant walking around in compared to Cabo San Lucas.  I spent a total of only two hours walking around Cabo San Lucas and had enough.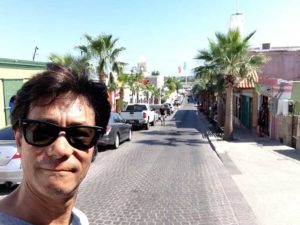 After walking around the quaint Malecon boardwalk of La Paz and quiet little streets of the town square of San Jose del Cabo as pictured above, the booming music and MC from the booze cruise catamaran in the Cabo San Lucas marina was just annoying.  Cabo San Lucas did not even deserve a single photo to be taken by me there.
Hotel rooms in both La Paz and San Jose del Cabo will be much lower priced too along with quieter evenings for sleeping.  Another huge plus for staying in these towns is unlike in Cabo San Lucas, there are no annoying vendors constantly approaching you to sell all sorts of junk.
Eat At Local Mexican Food Venues
Where you can really save money is in food.  Although Baja is an expensive travel spot, it is possible to eat cheap there if you are willing to avoid the mass tourist restaurants and venture into the more local areas.
When I was in Mexico, I did not eat at any hotel or resort restaurant nor any North American chain type of restaurant.  I also did not bother with any restaurants that had obvious English language names since they would most likely be catering to the mass tourists.  Instead, I went to eateries usually along quieter streets that had Spanish names and few tourists as these were places that served the locals.
Quite often, these local restaurants were open air with much more basic decor than the fancy tourist restaurants.  Some of these local places had English language menus but many did not.  So it is very helpful to arm yourself with a sheet of useful Spanish phrases but usually there will be at least one Spanish staff member who would be able to understand enough English to take your order if the place is located in a town tourists would at least visit.
The main advantage of eating at these little local hole in the walls is that you get the real authentic Mexican cuisine instead of North American fare.  This ain't no Taco Bell being served at these places.  And the prices are usually a fraction of the prices at the tourist restaurants which know that most tourists will pay more just for convenience and familiarity.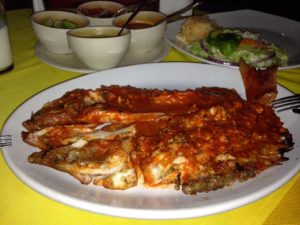 For example, I had the whole red snapper fish dinner shown above for the equivalent of about $10.  On another occasion, I had two very large authentic Mexican burritos plus side fixings (shown below) and beverage for about $8.  Try getting these at such low prices at the tourist restaurants.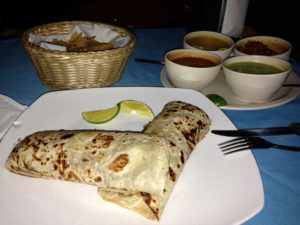 In addition to restaurants, some Mexican towns like La Paz (and Tijuana on another past trip) have food stalls right on the streets usually serving freshly made Mexican tacos for about $2. These are way better than any tacos you would get outside of Mexico. Another place filled with authentic local food at really cheap prices are food eateries set up within local Mexican markets. These would be the equivalent of food courts at malls and markets you see in North America. I've found good cheap eating at such markets as well.
With an overdeveloped tourist market like Baja, you can easily eat cuisine much like at home for your entire stay down there and you will be gouged at inflated tourist prices. But why not experience local authentic culture and try food that you cannot get back home and at the fraction of the touristy costs?
Here is a short video clip I shot while in one of these tiny local Mexican places and in this case, it was in La Paz.
Plus the local scenes whether inside a market or on a local street (or along the ocean front Malecon as in the case of La Paz) filled with locals doing their day to day business are usually much more interesting to watch while dining than being stuck among hundreds of other tourists.
If you are worrying about getting sick from food that you are not familiar with, just make sure that any food that you order is cooked. And even the street food stalls will fully cook their food items right in front of you.
On each of my trips to Mexico and other Latin American countries, I've come home well under my budget mainly because I was able to find cheap local places to eat. And I experienced authentic culture which is very difficult to do if staying just within resorts or strictly tourist areas. Be a little bit brave and adventurous and you will be rewarded with not only a more fulfilling travel experience but also save on your travel dollars.