Motivational Audio Self Help CDs
By Inspirational Speaker Author Clint Cora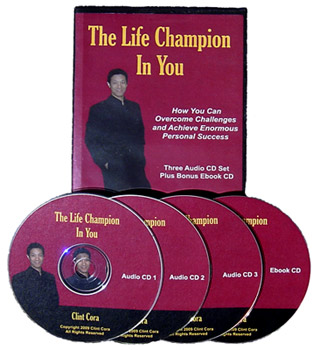 Both CD and Downloadable Audio Versions Available
Self Help Audio CDs By Clint Cora
Inspirational speaker, author and karate world champion Clint Cora's book, The Life Champion In You, is filled with inspiring stories from both Clint's own life as well as his observations of other successful individuals he has come across. There are numerous universal lessons described by Clint throughout this motivational audio self help CDs program to help you overcome challenges and achieve personal success in your life.

This is the three hour audio version of his printed book of the same title which outlines the same success strategies and tools that Clint uses on a regular basis. Some of the topics covered include:

* Mindset and attitude required for achieving personal success
* Real life comfort zone expansion examples to inspire you
* Tools for effective success planning/monitoring for your personal growth
* Effective solutions to overcome possible complications to success
* Tips to help you become a successful all round Life Champion
* Multiple universal lessons from Clint's own journey and from others
You can listen to the audio foreword from this motivational audio self help CD program. Also see and listen to others below on what they thought about The Life Champion In You.

--


Became Better Person As Result Of Priceless Lessons

"As a listener of his motivational audio book, one should take the time in trying to understand what Clint stands for particularly given the multi-category of population he continues to influence in various positive ways. In 'The Life Champion in You', Clint illustrates the aspect that anything is possible if you attack life with the proper mindset and tools. Those who choose to bypass his invaluable product should try giving it one more attempt because it does outline contents that will eventually lead you in the road of success given you're serious about accomplishing such power in your life."

"This audio self help CDs book offers once in a lifetime breaking strategies for pointing out mechanisms that will help us in taking ownership of our lives. We all need role models and I know I am a better person by having learned such priceless lessons from 'The Life Champion in You' by Clint Cora. Because we're all humans who essentially have same needs, this CD program should benefit anyone out there who feels lost in their life and requires highly structured guidance. Apply the tools that are outlined in his book in helping you reach that ultimate destination in your life."

Jenny Choi, RN, Glen Burnie, MD

See text testimonials from other readers
This motivational audio self help CDs version is excellent if you prefer to learn through listening as it helps you absorb the concepts for personal development even better that just reading alone. You can learn even while you drive, travel or do work in the house while Clint shares his personal growth tips.

The three audio CDs are standard audio CDs (not MP3) so they will be playable on any device that plays CDs including car and portable CD players.
Bonus CD Included With Audio Self Help CDs
Since the motivational audio self help CDs refer to diagrams in The Life Champion In You book, a 4th bonus CD containing the digital ebook version with these diagrams is included in this multi CD set!
My Risk Free 100% Money Back Guarantee

I feel so confident about
The Life Champion In You
in helping you in your personal growth that I assume all the risk.
If you feel that you haven't learned anything useful that puts you on the path towards personal success during the next 60 days after you place your order, return audio CD set in good condition and I'll refund your money back.
There is absolutely NO RISK to you. I am sure that you will get positive results if you faithfully follow the universal lessons outlined in the audio program.

The four-CD set is only $37 and
shipping is FREE within North America!
Click on the graphic below which will add this CD set to our secure online shopping cart.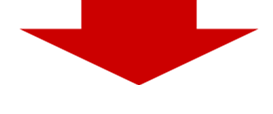 The Life Champion In You Audio CD Set - $37

Note that this motivational audio self help CDs version is available only through Free Spirit Gallery Publishing at this time.
Downloadable Audio Self Help Versions
If you have high speed internet access, the motivational audio version can also be directly downloaded instead of waiting for the CDs and this will save you $10. See the digital self help ebook and audio versions for more details.
Changed The Way He Sees Himself

"Now is the time to experience the greatest YOU possible; a true champion. 'The Life Champion in You' has lifted me up and changed the way I see myself today. I listen to the CD version of the book while I drive to International Toastmasters meetings in Dallas. That's a two hour drive that I'm always eager to make."

"Clint shares the positive parts of himself and his journey and I am discovering the same championship thinking within myself. I've learned to make a totally committed decision, to expand my comfort zones, to get past complications, to build on little successes and to never give up. I highly recommend 'The Life Champion In You' to everyone. If you want it, it's right here."

Billy Hall, Cookville, TX

See text testimonials from other readers

----------

----------

----------

-----------